ACROSS Selected as Stream A Project in SNS Journal 2023 – Press Release
July 10, 2023
14 June 2023
ACROSS Selected as Stream A Project in SNS Journal 2023
ACROSS, our leading research and innovation project, is being featured in the SNS Journal 2023. The inaugural edition of this journal showcases projects selected after the first SNS JU Call in early 2022, with ACROSS among the prestigious list. Discover our vision and objectives, delve into our proposed system architecture, and explore our test cases on pages 20-23.
About SNS JU
In January 2023, the Smart Networks and Services Joint Undertaking (SNS JU) launched an impressive portfolio comprising 35 research, innovation, and trial projects. These projects were carefully selected from the initial SNS JU Call in early 2022 and play a vital role in advancing 5G technology and ecosystems while fostering 6G research in Europe. Supported by a combined funding of approximately 250 million EUR under Horizon Europe, this portfolio aims to establish a top-tier European supply chain for advanced 5G systems and bolster Europe's 6G technology capabilities.
SNS JU's Research and Innovation (R&I) projects focus on developing intelligent communication components, systems, and networks for 6G. This pursuit follows an evolutionary path by further enhancing 5G advanced technology (Stream A) and a more revolutionary path exploring the benefits of promising technological enablers (Stream B). Additionally, technology validation initiatives will establish SNS experimental infrastructures (Stream C) and conduct large-scale SNS trials and pilots (Stream D) across various business and industrial vertical sectors.
ACROSS: Pioneering Stream A Projects
ACROSS proudly stands as one of the seven Stream A projects, committed to paving the way for the development of 6G networks. Within Stream A, ACROSS conducts research on energy-efficient radio networks, adaptive Open RAN, integrated 5G-Non-Terrestrial Networks (NTN), AI-based edge platforms, and intelligent resource management to ensure security, privacy, and trustworthiness.
Read the SNS Journal 2023 here:
https://smart-networks.europa.eu/wp-content/uploads/2023/05/sns-journal-2023-web-1.pdf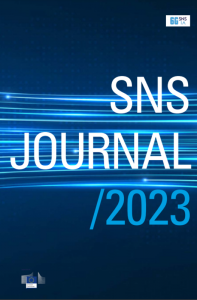 Learn more and be part of the ACROSS community! https://across-he.eu/
 https://www.linkedin.com/company/across-horizon-europe/
 https://twitter.com/horizon_across
 https://www.facebook.com/people/Across-Horizon-Europe/100089706850799/